Product Description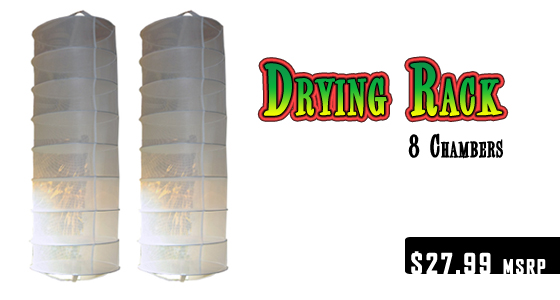 Features 8 Drying Chambers with Metal Rings Support for Durability.
Quick and Easy to Set Up and Take Down.
Hangs anywhere - Outdoors, Ceilings, Grow tents, Garage, Closets
THE SCIENCE
Drying crops correctly and easily is absolutely essential to getting the most value and pleasure out of harvested flowers. Until now the process has been challenged because there was not a professional drying system that offered portability, stealth and high volume drying.
The GroSite Dry Rack is the solution as it provides new targeted engineering to be the most versatile drying rack ever manufactured. The GroSite Dry Rack custom design makes it efficient and easy to process the drying and curing of quantities of flowers.
The rack is collapsible, portable, rust-proof, and equipped to send consistent air flow to the flowers so they dry and cure evenly. The design minimizes the chance that moisture can develop causing molds and mildews that harm the harvested crop. Mold and mildews can infest and harm the delicate flowers. The GroSite Dry Rack is designed for circular air flow that minimizes the presence of such moisture that could otherwise produce health issues when the product is consumed.
Previous drying systems have been found to be inferior by most growers. The complaints are that the systems do not have sufficient capacity, have inadequate air flow, are cumbersome to move and expand, rust or fall apart, are not deep or big enough to keep crop material from falling out, and are too expensive.
The GroSite Dry Rack solves all these problems. We provide a three-year warranty period in which you can use the GroSite Rack. If it does not meet your needs it can be returned for a full refund. No other manufacturer offers this kind of warranty because only GroSite had the grower in mind as they designed, engineered and tested hydroponic products in simulated situations that mirror the targeted gardener.
Length 60 inches
Shape Cylindrical
Diameter 23 inches
Chambers 8 Chambers Dry Nets
Materials High Quality Nylon Netting for Fast Drying.